---
A Message from Founder, Cynthia Brian
Thank you for your patience and your generosity as it has taken me so many months to get this newsletter published. Last February our home flooded. It's been eight months of living with plastic and paper covering walls, floors, and doorways as a multitude of professionals worked tirelessly to help us become "whole". To be available to the crew, I worked by day from my home office with earplugs and a face mask to keep the noise and fumes at bay, and at night would go to the 
StarStyle
 and 
Be the Star You Are 
offices to finish. It was challenging, exhausting, and often disheartening as I struggled to juggle family, friends, clients, 
BTSYA
,
 radio
, 
writing,
lecturing
, 
gardening
, and reconstruction responsibilities. This past week, volunteers and I began to pack boxes for our holiday donation give away. It felt great to be giving back.
Wishing you and your family a healthy, happy, and safe Thanksgiving. When you go around the table to share what you are grateful for, remember that gratitude works. And the more you give, the more you get!
Cynthia Brian
Founder/Executive Director
Cynthia@BetheStarYouAre.org
Be the Star You Are!
---
DON'T SPEND A DIME WITH THIS SUPPORT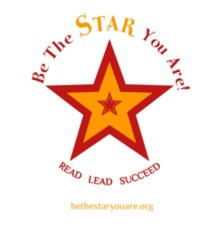 Help Be the Star You Are!® without spending a penny. If you've ever purchased a TV or computer screen, just 3 minutes of your time is needed to fill out the simple form and click submit. Every unit qualifies for a donation of about $20 to Be the Star You Are!®. You will receive a tax receipt once the donations have been dispersed. PLEASE do this today. Thanks from Be the Star You Are!®
---
CONGRATULATIONS EXPRESS YOURSELF!

November 21 marks the four-year anniversary of 
Express Yourself!™ Teen Radio 
(http://www.ExpressYourselfTeenRadio.com
)broadcasting on the 
Voice America Kids Network
. 195 new shows have hit the world wide airwaves with talented young people as hosts and reporters. Created and produced by entertainment veteran,
 Cynthia Brian,
 Express Yourself!™ Teen Radio is a special outreach program of 
Be the Star You Are!®
 501 c3 (
http://www.BTSYA.org
) charity giving youth a voice to be listened to. Congratulations to the teens and THANK YOU Voice America Kids Network.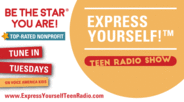 ---
Give Books/T-Shirts to Inspire…
Buy any books or T-shirts
 as a tax deduction 
Donate to schools, organizations, and those in need
GIVE THE GIFT OF LITERACY!
"Books fall open, we fall in!" 
---

HELP WITHOUT DONATING EXTRA
If you love to shop online, you'll love the
ways you can be donating to Be the Star You
Are!® without spending a penny more, and
sometimes saving a lot. The next time you
want to buy ANYTHING, click on one of our
links and you'll
be supporting BTSYA while getting the best
value for yourself!
SHOP ONLINE-IT MAKES A DIFFERENCE
1. AmazonSmile donates .5% of purchases
2. Discounted books at Amazon
3. Buy or Sell on EBAY
4. Use GoodSearch to search the web & buy
from your favorite stores,. Choose Be the Star
You Are as your charity to support. You can
log in with Facebook, too!
5. Shop at over 1300 stores on IGIVE
A percentage of every purchase is given to Be the Star You Are! 
when you use these links. PLEASE SHOP & GIVE!
---
WANT TO JOIN OUR STAR TEAM?
If you are interested in being part of the
 Be the Star You Are!®
 family, send an email to Cynthia@BetheStarYouAre.org. We have many virtual opportunities, offer community service credits, and work with court appointed mandates. A questionnaire will be sent to you with guidelines. Young people have the opportunity to become on-air reporters, book reviewers, podcasters, and more.
BTSYA
is only interested in honest, energetic, dedicated individuals as we want our volunteers to benefit from their experience with us. We 
GROW
 people! We help YOU SHINE!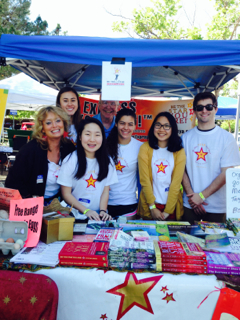 ---
From all of us at Be the Star You Are!®, we thank you and wish you a most grateful, great, peaceful, compassionate Thanksgiving.